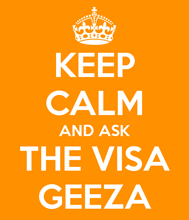 I have received 2 questions on the topic of 'long stay' visitor visas and the extension possibilities in the last 24 hours so am taking the opportunity to merge them into a single answer here.
QUESTION
"Hi, I think I could use some of your quality advice. My situation seems to be quite complicated, so I will keep it as simple as possible.
Last year, I moved to Hong Kong between October and March. I obtained a 6-month training visa for this period. Between the end of March and June, I traveled around Asia and returned to Hong Kong for a week during the beginning of June (on a visitor visa). I then returned home to Europe, where I decided that I wanted to move back out to Hong Kong in search of a permanent position (and live with my sister in the meantime). I have now been in HK since the 16th of August (approx 75 days) and therefore I am nearing the end of my visitor visa. I still have not found a job, therefore I have to go about renewing it. 
I would like to know from you, what you would do in my situation for the renewal of my visitor visa. I have heard that I can do a quick return trip to Macau or that I can submit a demand to the Immigration Department and request another 90 days. What method would you suggest?"
AND
"Hi Visa Geeza, I've got a question. For the past two years I have stayed in Hong Kong for over 500 days (in and out of Macau every three months/90 days) and now I'm wondering how long I can pull this off without raising red flags. I am not employed in any way and have just spent my days with my daughter who's studying at university here."
More Stuff You May Find Useful or Interesting
The long stay visitor's awkward predicament
Is the 'Shenzhen Shuttle' a good way to extend your visitor visa?
Is it possible to get an extension to my visitor visa to stay with my girlfriend here?
Can I come to Hong Kong as a visitor, find a job then change to an employment visa?
PODCAST ANSWER
Podcast: Play in new window